The new Essence trend edition "Floral grunge" will be available from April to May 2013. Floral and feminine elements with cool grunge accents are this ones specialty.
Delicate and intense colors, fine and rough textures, floral lace designs and edgy studs :)
The must-haves are the stick-on eyeliner with velvet or rivets optics and hair powder for color catcher in the hair.
Smells like Spring Spirit! XD
Blush: Turn coral: the silky-matte texture of the blush can be easily applied, distributed and feels very smooth on the cheeks. It provides an intensive colour result in cool coral-pink.
Eyeshadow quattro: The four long lasting colours of quattro eyeshadows from metallic to matt. The light version is available with white, soft pink, coral and mint while the other one is reflecting the dark version with beige, lilac, black olive and the grunge. Available in 01 eye eyelike and 02 flowers like grunge.
Nail polish: F

resh, floral and slightly smokey mint, pastel white, soft coral, purple and black colour.

The effects guarantee variety and contrasts: from matte to pearl to an edgy "Griptape optics," as they are known on skateboards.

Available in 01 Flowerful be, 02 lily bloom, 03 grunge me tender!, 04 madly purpled and 05 black to the roots.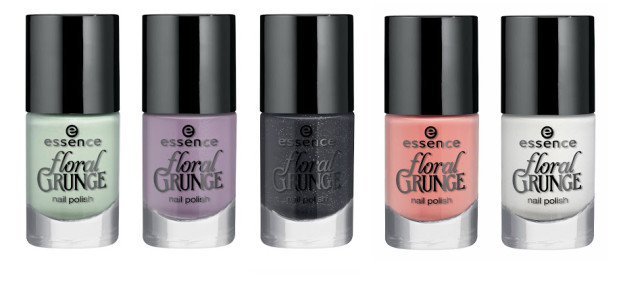 Mini lipgloss set:
Perfect for travel, whether open-air festival or cool underground club.
Depending on your mood you van choose from the three different mini-lipglosses.
Two different sets of delicate or strong nuances that belong in every handbag.
The soft version contains Transparent Glitter, delicate rose and coral and the other one colors the lips with intense version in pink, lilac and mint cool.
Available in 01 kissing me softly and 02 kisses grungy rock!
Body tattoo:
Fancy tattoos, but not permanently?
With a sleek body tattoos for face and body may be tested at will.
A real eye-catcher guarantee.
The tattoos adhere very well to the skin and can be removed best with 2-phase make-up remover.
Hair dye powder:
Coloration to go ... The pressed powder creates hair color highlights in bright coral and attracts the first rays of sunlight.
Just click on the desired strand of hair and wash out at will.
A unique must-have for all individualists, who are interested in a casual spring look.
Hair-band:
The riveting rock hair band gives the trendy "floral grunge" look the finishing touches.
Stick-on eyeliner:
Flower Girl or Rock Girl?
Both of course!
The innovative new stick-on eyeliner is self adhesive and will love all the beauties.
Simply select the favorite in velvet or with small rivets and glue it to the lid.
The particularly simple application manages the perfect eyeliner.
Multiple reusable.
This is really much more a spring like collection, but hmm.. I find the stick-on eyeliner something I would try, because I never manage to make a fine line myself.. Maybe I would buy the body tattoos, just for fun, but than again probably not.. The second, lightest version of mini lipgloss set looks promising, I would really like to get a tester and than decide.. Also, Black to the roots nail polish looks promising, but I am quite sure I already have a similar shade at home. The blush looks really light, but too pinky for my taste and the eyeshadows really don't impress me at all.. maybe when I see them live I will change my mind. What about you? Anything you would like to try?
Thanks for reading!