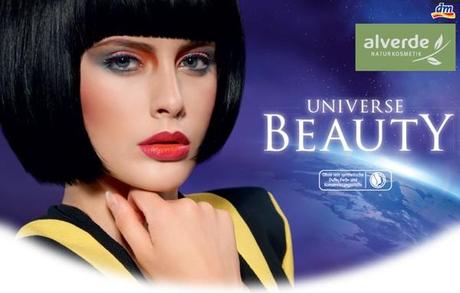 Alverde is presenting a new limited edition coming out in February 2013. It's called Universe Beauty and it's full of gold and silvery shades, greens and blues and sparkling lip glosses :)
PRODUCTS:
Mascara Extension Effect: This mascara ensures eccentric volume, maximum coverage and a really great effect. With cosmic tones it can play wonderful effects and your eyelashes immerse completely in gold or silver. This product is not vegan! Available in Galactic Gold No.10 and Cosmic Silver No.20 :)
Eyeliner Flashing star: The Alverde eyeliner with glitter particles, contains minerals. Available in three shades, all are vegan. No.10 Green Flash, No.20 Grey Rocket, No.30 Blue Star.
Mono eyeshadow: Eyeshadows for a glamourous look. Available in five new shades, all are vegan :) No.10 Orange Lightening, No.20 Blue Universe, No.30 Golden shine, No.40 Silver Shining, No.50 Turquoise Atmospehere.
Blusher: Contains camomilla extract, for cheeks and cleavage. Available in two shades, No. 10 Pink Supernova (not vegan) and No.20 Orange mercury (vegan!).
Lipgloss: The lipglosses are truly a glitter bomb. With minerals for seductive and shiny lips. It's not sticky and sadly, none of the shades are vegan. Available in three shades, No.10 Supernova Big Bang, No.20 Jupiter Motion, No.30 Venus Love.
Lipstick:
Magnificent
colors
and
sensuous care
.
The silky

formulation

with high quality

oils and waxes

cares for and pampers

your lips

and

makes

them

shine

intensely

. Available in three shades, No.10 Rosy Clouds (not vegan), No.20 Flashy Pink (not vegan), No.30 Galactic Orange (vegan).
Shimmer Oil:
The

Alverde

shimmer

oil

with

organic jojoba

oil

and

vitamin E

maintains

the

skin and gives it

a galactic

glow.

The

Shimmer

Oil

is suitable

for all skin types

and

leaves a pleasant

feeling

.

It

can be applied to

the

neckline

as well as

the entire body

and sets

with fine

glitter

particles

accents

. This product is not vegan!
Concealer
Anti-
Dark Circles:
The

Alverde

Concealer

Anti-

Dark Circles

luminates

tired

eyes

after a long night

in the galaxy

.

Neutralizing

pigments conjure up

a fresh complexion.

The concealer

is not vegan

.
This collection has a lot of great products that I would use for everyday makeup as well as for special occasions. I really like silvery mascara, I already got myself a gold one, also from one of the previous Alverde LE. I also like the eyeliners, but I usually don't use them much, perhaps this Grey rocket would be useful for every day make up :) Eyeshadows i don't find very interesting, I already have a lot of similar colours. Blushers are a product I never use, really never. I know - a makeup blogger and I don't use such an important part of the look XD I just don't feel the need and it looks weird on me. Lipglosses and lipsticks look rather daily to me, the orange shades appeal to me most. I will definitely buy shimmer ol as long as the glitter part isn't too big. I hope this product is really as good as I've read, because lately I really love shimmery stuff :) As for concealer, maybe but I've got my Bourjois HM one and it's great and I have lots of others I really never use, just this one.
Anything you like in this collection? Would you consider buying anything or do you already have it all?